Content Area 8: South, East, & Southeast Asia
- Click on the banner above for Essential Knowledge/Image Set. Remember, all image sets, handouts, lecture PowerPoints and assignments are available in Google Drive.
21 ARTWORKS - 8% of AP EXAM
FIELD TRIP PREP - CROW ASIAN COLLECTION - WEDNESDAY, 10/24. (Cost: $10 per student)
Read the following articles & prepare 6 specific questions (3 on each topic) you wish to ask our gracious guide (docent) on 10/24.

Yamato-e painting:
http://www.metmuseum.org/toah/hd/yama/hd_yama.htm

Mughal Architecture:
https://courses.lumenlearning.com/boundless-arthistory/chapter/the-mughal-period/

South, East, & Southeast Asia - Khan Academy

SOUTH AND SOUTHEAST ASIA

Hindu Philosophies
* Many different sects of Hinduism
* Belief in the infinite variety of the divine: nature, gods, humans
* Orthodox Hindus accept the Vedic (ancient Sanskrit) texts as divine (sacred scriptures)
* Vedic texts assign Brahmins (a caste of ritual specialists)
* Enlightenment, or reaching Moksha, ends the cycle, through good deeds and living a devotional life to charities, religious fervor, and love of all (karma).

Major Hindu gods
* Shiva, principal deity, dances to the destruction and rebirth of the world.
* Brahma, creator god
* Vishnu, preserver god
* Laksmi and Parvati, peaceful consorts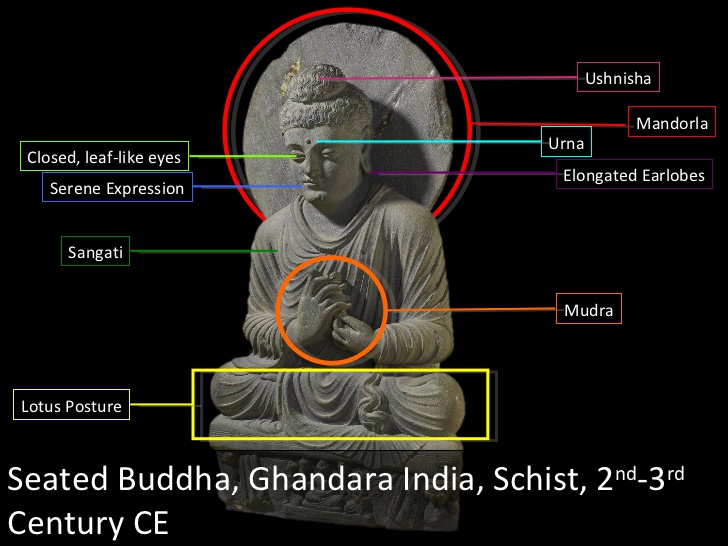 Buddhist Philosophies
* Teaches individuals how to cope in the world full or misery.
* Buddha, Siddhartha, when he was a prince first, rejected worldly concerns and courtly life and decided to live in the country.
* Believes in reincarnation, a cycle of birth and rebirth.
* Enlightenment, or reaching Nirvana, ends the cycle, through good deeds and living a devotional life to charities, religious fervor, and love of all.

Common Themes of Buddism
* The Lion = Buddha's initial royalty
* The Wheel (chakra) = Buddha's law
* The Lotus = Buddha's pure nature
* Columns surrounds by a wheel = Buddha's teachings
* Empty throne, umbrella, footsteps, lone wheel, Bodhi tree = Buddha
KEY IDEAS
* Indian Art stresses the interconnectiveness of all the arts: architecture, painting, and sculpture.
* Buddhist and Hindu philosophies form a background to Indian artistic thought.
* A blend of various people who invaded India create the unique culture.

Student Resources
PowerPoint - Key Ideas - Buddhist and Hindu Philosophies - Common Themes in Buddhism - Hindu gods - Artworks List - Vocabulary - Q card Images
* YouTube: Crash Course World History: Buddha and Ashoka
* YouTube: Sanci Stupa
* Hinduism vs. Buddhism
* Listen to this podcast from University of Texas at Austin about the sects of Buddhism.
* 15 Minute History that accompanies the above podcast
* Angkor Wat by Nat Geo
* Borobudur Temple Complex: UNESCO
* All about the Buddha by PBS

Vocabulary
ashlar masonry
bas-relief
Bodhisattva
Buddha
Darshan
horror vacui
iconoclasm
mandorla
mithuna
mudra
Nirvana
Puja
Sakyamuni
Shiva
stupa
torana
urna
ushinisha
Vairocana
Vishnu
wat
yakshi
CHINA & KOREA
KEY IDEAS
* Laozi and Confucius's philosophies filter through every part of the Chinese thinking including art.
* Daoism (meaning "the way", a journey that allows the pilgrim to wander meaningfully in self-expression) and Confucianism.
* Calligraphy is the most respected art form
* Artworks are usually in the form of handscrolls, hanging scrolls, fans, and album leaves.
* Courtyard style houses that express the philosophy about the family and social position.
* Artwork is divided into periods defined by dynasties.

China History
* First Emperor Shih Huangdi, 3rd century BCE (unified China, codified written Chinese, standarized weights and measures, developed uniform currency, started the Great Wall)
* Height of ancient Chinese = Tang Dynasty (618-906CE)
* Ming Dynasty = Forbidden City

Student Resources
Key Ideas
History
Artworks list
Vocabulary
Q card Images
* YouTube video: Crash Course: China
* YouTube video: Forbidden City by NatGeo
* YouTube video: Ai Weiwei's Sunflower Seeds
Heilbrunn Timeline (by The Met): Chinese Calligraphy
Korean Art collection at LACMA
http://www.asia-art.net/korean_paint.html

ARTWORKS LIST
Chinese Architecture
Forbidden City, 15th c., Bejiing - Front Gate, Hall of Supreme Harmony
Chinese/Korean Painting
Funeral Banner of Lady Dai (Xin Zhui), 180BCE
Travelers Among Mts. and Streams by Fan Kuan, c. 1000
Portrait of Sin Sukju, 1417-1475 (Korean)
Chairman Mao En Route to Anyuan, by Liu Chunhua, 1969
Chinese/Korean Sculpture
Army of Emperor Shi Huangdi, 221-209BCE, Lintong, China
Longmen Caves, 493-1127, Luoyang, China
Gold and jade crown (Korean), uncovered from Gyeongju
The David Vases, 1351

Vocabulary
Bi
Bodhisattva
Coiling
Colophon
Confucianism
Daoism
Hanja
Literati
Pagoda
Porcelain
Potter's Wheel
Throwing
Vairocana
Yin & Yang
JAPAN
KEY IDEAS
* One of the best preserved artistic traditions in the world
* Zen Buddhist thought dominates art traditions
* Ukiyo-e prints originally sold as a middle-class art form but became extremely influential in Europe in the 1800s

Student Resources
Key Ideas
Artworks list
Vocabulary
Q card Images
* YouTube video: Crash Course: Japan
* YouTube video: Hokusai's The Great Wave
* YouTube video: Ukiyo-e prints

ARTWORKS LIST
Architecture and Sculpture
Todai-ji, 743, Nara, Japan including the Great - Buddha sculpture at this location
Great South Gate, 1181-1203
Ryoan-ji (rock garden, dry and wet), Kyoto

Painting, Printmaking
Night Attack on Sanjo Palace, c 1250-1300
White and Red Plum Blossoms by Ogata Korin, 1710-1716
Under the Great Wave off Kanagawa by Hokusai, 1830-1833
Influence of art of European paintings (need examples)

Vocabulary
genre painting
Haboku (splashed ink)
Condo
mandorla
Tarashikomi
Ukiyo-e
Yamato-e
Zen
ACKNOWLEDGEMENTS:
Thank you so much to Lynn Wilkinson, Mary McConnell, Valerie Park and Martha Kunz for all their quidance and resources.